Tweet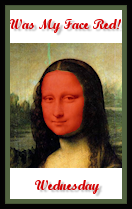 Welcome to Was My Face Red! Wednesday! Most of us have, at one time or another, done something so humiliating, that we wished the floor would open up and consume us. Let's swallow our pride and share those moments with others! Our shame was not in vain, if it can put a smile on someone face! You tell me yours, and I'll tell you mine...
  Everyone is welcome to participate. Just leave the link to your WMFR post below.
My Ex Hasbeen (not a typo) had a friend in the military who was a real pain. He weighed like 12 pounds and always drank to excess. Plus, when he was sauced, he imagined that he was of high intelligence, and would ramble on and on about stuff, trying to sound smart. Inevitably, EH would bring this guy home with him on weekends, since his family lived in Michigan. Finally, the friend found a nice girl and seemed to settle down with the drinking.
We actually liked the girlfriend more than we did him! The one thing about  her was that she had huge, protruding, bucked teeth. I wouldn't have wanted to hurt her feelings for anything in this world. So, I always made a concerted effort never to say anything about teeth or look at her mouth when she talked etc... This was hard to do, as her teeth were the most noticeable feature on her face. They spent lots of time at our house! I was a funny person, my EH was a funny person, and we seemed to be their favorite show to watch. LOL
For a little history, I used to and still do impressions of some famous people. One of those people used to be Doug Henning...
I would poke my teeth out over my bottom lip, curl my top lip, wave my hands in a circle, and say, "It's an optical illusion!" Of course, I dropped this impression from my repertoire, upon meeting the friend's new girlfriend. But, as fate would have it one night, the couple had been at our home for HOURS, I was dog tired and just aching for them to leave. Brainiac EH turned the conversation to freaking magicians! Well of course, we start talking about all the great ones and for the life of me, I could not think of Doug Henning's name. Before I know it, there I am staring Girlfriend in the face and saying, "You know! The one with the bucked teeth!" Oh God! Did I just say that? Dead silence fell upon us. I wanted the floor to swallow me. I did the only thing I could think of and said, "How 'bout them Cowboys!"