Tweet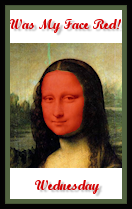 Welcome to Was My Face Red! Wednesday! Most of us have, at one time or another, done something so humiliating, that we wished the floor would open up and consume us. Let's swallow our pride and share those moments with others! Our shame was not in vain, if it can put a smile on someone face! You tell me yours, and I'll tell you mine...
  Everyone is welcome to participate. Just leave the link to your WMFR post below.
Before meeting Hubs, I was the night manager at our local convenience store. When we started seeing empty beer bottles in the trash can for the men's restroom, the store owner felt certain that someone must be grabbing beers from the cooler, slipping into the bathroom, and drinking them without paying. His solution was that we should keep the men's room locked, thus forcing anyone that needed to use the facilities to come to the counter and ask for a key. This was a good idea, in theory...
There was a real trick to getting the key to turn in the doorknob. Four out of five times, man would return to the counter, still doing The Pee Pee dance, telling me that they could not unlock the door. I would have to have a co-worker man my register and go unlock the door for them. This became a very routine thing. So much so, the locals stopped asking for a key and just asked me to come let them into the bathroom. Well, one evening, an out-of-towner walked in and asked for the key to the men's room. I gave him the key and without thinking, as he strolled toward the back of the store, I shouted, "Just let me know, if you need me to help you!" He responded with a very confused and cheerful, "Yes Mam!" My co-workers teased me about that for days...