Tweet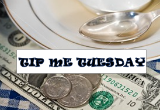 W
elcome to Tip Me Tuesday! The Blogisphere is full of wonderful people, willing to share great advice. We just have to ask for it. That is why I have invented Tip Me Tuesday. An easy way to ask for tips and suggestions about any problem you might be having. Nothing is off limits and everyone is welcome to participate. Just make your own Tip Me Tuesday post and return to leave the link below...
A couple of tips to share...
Hand sanitizer gel will remove ink pen marks from painted walls. Test a small spot first just to be sure it doesn't harm the finish. I have never had a problem.
Need to make cupcakes and don't have enough muffin pans? You can stand the paper cupcake liners in canning jar rings, on a cookie sheet or jelly roll pan.
Today, I need tips on keeping deer out of my garden. I live on a pretty big stretch of property and so my garden will not be within sight of my house. We have lots of deer in our woods and year before last they managed to eat over 300 ( not a typo ) tomato plants. I never even thought of deer liking tomatoes. Anyway, a fence is not an option, so any other ideas would be greatly appreciated.